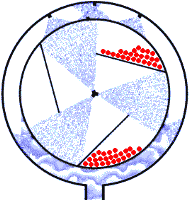 High pressure wash and rinse sprays, insures
removal of particles, manufacturing soils, chemical contamination
and pyrogens. The result is total cleaning of all wetted surfaces
including recessed blind holes in LYO stoppers which retain
water, particulates and silicone (from pre-siliconization by stopper
manufacturer) due to capillary action.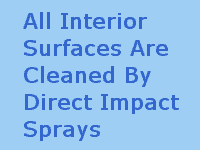 The CIP system is designed into the HUBER System processor, an
integral and critical component of the entire process. The
patented CIP nozzle placement ensures consistent washing
and rinsing of entire interior surfaces of the outer drum and the
outer surfaces of the inner drum as they are fully washed and
rinsed as part of every CIP cycle. Thus, you are assured of complete
removal of residual particles with every batch of stoppers processed.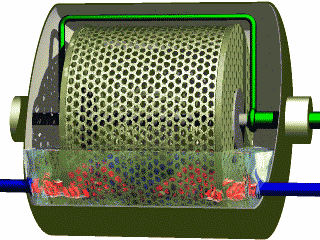 On request, the Sterilizer Series can be designed in such
a way that a subaqual pre-sterilization of the stoppers in a
water bath under pressure up to a temperature of 125
degrees Celsius can be carried through.
Subaqual treatment allows for the extraction of water
soluble components and mold release agents which
can be hard to remove using conventional hot water
and detergents. As regulatory agencies increase their
expectations for even lower levels of extractable
substances in your rubber stoppers and thus on drug
stability, let us help you attain the lowest extractable
levels achievable.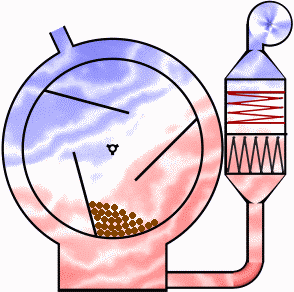 Air required for the drying procedure and is brought
into the machine by the blower through a pre-filter and
sterile filter. Drying is enhanced by centrifuging, removing
most of the water from the stoppers prior to the drying cycle.
Intermittent shifting of the stopper load during drying provides
very low moisture levels.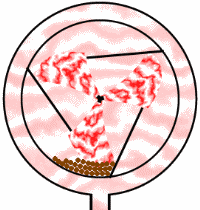 Steam is supplied through nozzles in the center shaft (patented).
By the steam sterilization coming from the center,
a fast removal of oxygen rich atmosphere from the pressure vessel
is achieved. On request, a pre-vacuum for sterilization is available.

The steam continuously and uniformly is supplied via the nozzles
which guarantees an optimum temperature distribution. The machine
quickly reaches the required sterilization temperature of
121 degrees Celsius. During sterilization, the stoppers are
smoothly shifted intermittently. Pressure and temperatures
are permanently recorded according to FDA.



On request, a SIP step can be integrated which exposes the
inner wall of the stopper vessel and the outer wall of the
inner drum to saturated steam. This insures precise
vaporization of the inner wall of the vessel and outer surfaces
of the inner drum by rotating steam nozzles. This step can also
be used to reliably and completely remove residual silicone oil
from the vessel interior and the inner drum outer surfaces.
A detailed technical animation of the HUBER System process
is available upon request.
Please contact us regarding HBPROCESS.gif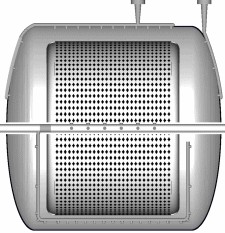 Ask us about our Multi-Media Presentations and Catalogs on CD-ROM !